Product Description
ROBOTIS PLAY 700 OLLOBOT
Ages: 8+
Grade Level: 3rd - 5th Grade
Lesson Hours: 6+
Number of Lessons: 6 Lessons
Student to Kit Ratio: 1:1 Recommended (Up to 2:1)
Curriculum Sample: ROBOTIS PLAY 700
Support & BOM Guide: E-Manual Link
Software: SCRATCH, R+SCRATCH (macOS, Windows Compatible)
ROBOTIS PLAY 700 OLLOBOT is a reconfigurable and programmable robotics kit that introduces children to STEAM Concepts. Building upon the PLAY 600 PETs, the PLAY 700 emphasizes creative design using ROBOTIS' patented rivet system and adds two elements: programming and smart device connectivity. The controller included with the PLAY 700, the CM-50 is a motorized gearbox that brings your child's creation to live. It also includes built-in sensors so that children can learn programming via SCRATCH or ROBOTIS R+TASK.
You can build up to 6 different robot figures with the ROBOTIS PLAY 700. The Puppy, Racecar, Windmill, Scorpion, Bird, & Bear can be built using the assembly manual included or the FREE R+DESIGN App which provides 3D Building Instructions and can be controlled using a smart device with our FREE ROBOTIS R+PLAY700 App.
Motorized, reconfigurable and programmable robot kit!

Includes a simple assembly instruction manual!

Includes 1 controller (CM-50) with two-way output + IR & Sound Sensor.

FREE R+PLAY700 App for sensor application through line tracing, line avoiding feature + Remote Control function via smart device.

*Requires 3 AA batteries (not included)
** The Bluetooth module included in this kit is the BT-410. This module is compatible with Android and Apple devices. In order to use the BT-410 with a PC, please purchase the BT-410 Dongle.

** Please purchase Item # 903-0195-001 for your BT-410 Cable (4P 120MM (Wireless Module) 4pcs) if you need replacements.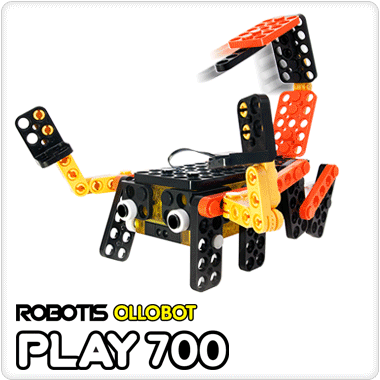 Software
PC Downloads:
Mobile Downloads:
To watch some tutorials for this kit, please click here.
Custom Field
Product Reviews
Tseliso Mpekoa - the app is not responding well on an iPhone